Hans Series Flexible Linear Spotlights
MOQ :100 piece
Lead Time :10 Days
Product details
Supply Ability
Supply Ability:100000 pieces
Product Specifications
Brand name:Romney
Light Source:LED
Material:Other
Install Style:Ceiling /Track/Pendant / Other
Input Voltage:220v /240v
Color:White /Other
Product Description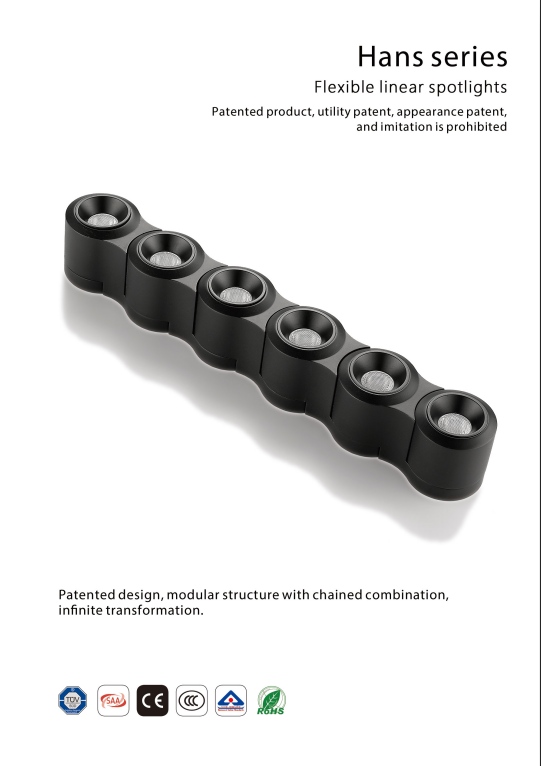 Project Name:Hans Series Flexible Linear Spotlights
Reporting Unit: Romney Opte-electrcal Systems Technology(Guangdong)CO.,Ltd
Comprehensive introduction or reporting reasons:
The Hans series has applied for domestic invention patents and European invention patents. The design of the Hans series is inspired by the roller chain invented by Hans Reynolds in 1880. The simple roller chain is a mechanical chain that transmits mechanical power and is an important invention to promote the second industrial revolution. The Hans series has an industrial style of appearance, simple and simple, at first glance, it is unremarkable, but it is accompanied by extremely profound connotations. A simple line, derived from infinite possibilities, varied, the composition of the luminaire looks like a separate structure from the outside, connected by movable links, but the product is always a whole, only However, the whole can be wirelessly extended according to different needs, and the strong adaptability can be used in most indoor situations. Meet the various needs of users.
The main technical parameters:
Function parameter:
Lamp body size: Φ45*45MM
Power: 3W Voltage: 220-240V
Color temperature: 3000K/4000K
Indicated: ≥95
Surface treatment: spray paint
Color: black, white
Product size: Φ45*45MM
Material selection: iron, acrylic, aluminum
Dimension: Φ45*45MM
Power: 3W
Voltage: 220-240V
CCT: 3000K/4000K
CRI: ≥90
Finish:SprayPainting Colour:black,White
Size: Φ45*45MM
Economic evaluation analysis:
The Hans series could not only replace downlight and linear, but also it's flexibility enables it a perfect lighting solution for column, right angle wall, waved design and many other diversiform structures.
Technical and process innovation points:
Patented design, modular structure with chained combination, infinite transformation.

When the combination is finished, per unit still could be adjusted with 90°.

The Hans series has many installation ways like recessed, surface mounted, hooped, track, pendant, underground, wall, floor and so on, thus it could be evolved into table lamp, floor lamp, pendant and wall lamps etc.. Per unit could be removed separately, so it also does well for installation and maintenance.

Professional optic design, secondary lighting distribution gives 15°, 25°, 40°and 60°beam angle for option. This series suitable for spotlighting and basic lighting, besides that, the wall wash function is its most outstanding feature.

Separated heat dissipation, aluminum housing with streamline design ensure the lifespan of this series more than 30, 000 hours.
You May Like
Exhibitor
VIP Supplier
Trade Assurance
Business Type : Manufacturer,Service,Trading Company,Exporter,Importer,Distributor,Sourcing Office
Company Location: GUANG DONG
Year Established: 8YRS